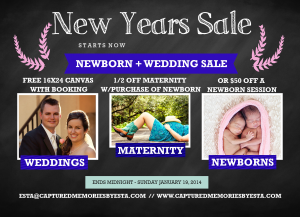 Happy Happy New year!! New year, new babies and new families being made and I LOVE capturing them! Have you recently got engaged or expecting a baby (or know someone who is)? Reserve your spot now whether it be for a spot this month or 9 months from now!  This will get you guaranteed at this rate even if rates increase later on. Sale ends Sunday, Jan 19th!! Gift Certificates can be purchased for these offers and make a great gift. Contact me for more details.
*Details*
FREE 16″X24″ Canvas with booking of a Wedding package. Dates are subject to availability.
Newborn sessions have 2 options: $50 off a single Newborn session OR Half off a Maternity session with purchase of Full Price Newborn session ($100 discount). We understand that your newborn date can not be scheduled in advance as birth dates can not be predicted typically. Reserve your spot now and lock in current pricing. Date will be scheduled once baby is born or if have scheduled birth, we can set it up as soon as date is known.
Email esta@capturedmemoriesbyesta.com or call (386) 623-0111 for any questions.