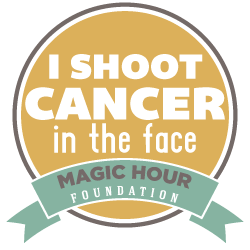 So, I wanted to introduce you to the Magic Hour Foundation. I have been a member of the Magic Foundation for almost a year now and have yet to have to take any portraits for them. I can hope that means we don't have anyone suffering from cancer in our area but sadly, I know that is farthest from the truth as I have discovered a few friends and family members suffering through this horrible disease.
I ran into the Magic Hour Foundation at PPA's Imaging USA in Atlanta in January. They were on one of the very last rows and I almost turned around to leave before going down their aisle but, something tugged me that way. As I walked up curious and asked "What's this all about?" I learned that this amazing foundation was created for cancer patients both currently undergoing treatment and survivors. Really? How great was this?! A foundation of Photographers who are willing to give their time free of charge to photograph some of life's precious memories for those who have struggled and conquered or are currently struggling with this disease that seems to be a more and more common occurrence.
The first person I thought of when they told me what the foundation is, would be my sister. You see, she was one of the lucky ones. She was diagnosed with pre cancer which quickly turned into stage 4 in a matter of months. She kept putting off the treatment, thinking she didn't have full blown cancer, what was the rush? Until one day a family member's friend passed away from cancer. That tragedy kicked her into getting the treatment! Thank God she did finally have the procedures done when she did because, that was when they discovered it had changed and grown to stage 4 that quickly. The doctors were able to get everything and she was cleared and might I add, she felt great! She had gotten her energy back and felt like a new person. Of course, she has to follow up every so often to make sure it doesn't return.
Unfortunately, not everyone is so lucky. I thought… what can I do to help these people? Well, I'm not a doctor. I can't heal them but, I can do my small part. That's where joining Magic Hour came into play. I love to do anything I can to help people. In fact, that's why I became a member of our local chapter of Altrusa. Any way that I can give back to the community, I will.
With Magic Hour, that means using my talents to capture memories for those suffering from cancer. I know they are out there and I wanted to let you all know about this awesome foundation. If you know someone who is suffering or is a survivor, I totally would love for you to fill out an application nominating them for a Free portrait session. I would be honored to play a part in creating memories for them if they are in my area but, they don't have to be in Lake City….we have photographers located all over the country.
Tomorrow is not promised for anyone and pictures are something we all should have. Doesn't have to be cancer…. things come up in life. I truly believe whether it be professional or candid shots, make sure you have pictures to hold onto. I know if I was to go tomorrow, my children will have images of me that they can hold onto and share with their children and so on and so forth.
To visit the Magic Hour Foundation for more info visit www.magichourfoundation.org
If you would like to nominate someone you know http://www.magichourfoundation.org/nominate/
If you'd like to learn more about Altrusa visit http://lakecity.altrusa.org/