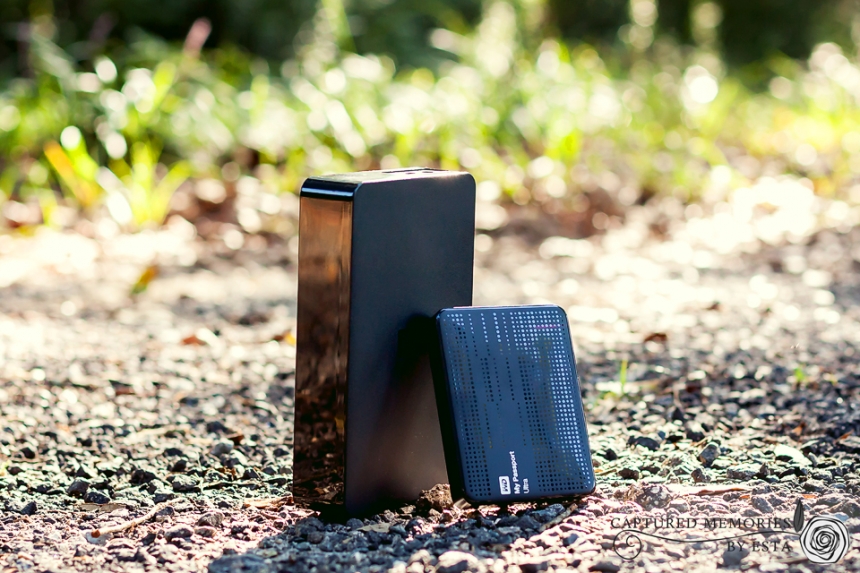 As I sat here this morning backing up files for a 3rd time from yesterday's wedding, I think back on a conversation I had recently on backing up files and how important it is to back up to multiple sources. Especially, if you are dealing with important files that can't be replaced! I can't stress this enough BUT, I can tell you about my own nightmare that happened to me a couple of years ago. It was a costly lesson.
Whether you are a professional photographer, or some other profession that requires you to keep records on hand or even a person at home who can't imagine losing your precious (and priceless) memories, this can apply. It's also something you should look for when hiring a photographer who you're paying to capture your Memories. Afterall, You can't go back and recreate your wedding day, a birthday party and sometimes, not even a family session depending on the availability of family members.
First, please please PLEASE print your images….preferably through your photographer and a quality print lab. The professional labs use the best quality papers and inks so that your images don't fade over time and truly are treasures that can be passed down to future generations to see. You don't have to print every image…only those most important to you. 1 is better than none in hand. If your disc breaks down the road or some catastrophe happens, can you guarantee you'll be able to get a duplicate of those digital files? If you are a professional who does anything digitally for your clients or even someone just wanting to safe guard memories, maybe my story will make you think twice about putting it off.
Now on to my nightmare…
A couple of years ago during the peak of wedding season, I had 5 weddings I was working on all at the same time. They were backed up to my computer and backed up to one hard drive. My computer got bogged down so, I moved all of my edited work over to the hard drive. Deleted all of my files from my computer and then went to move some files back on to my computer.
When I went to move files back, nothing happened. NOTHING! The hard drive showed up but, nothing was moving. I went to Office Max thinking it was possibly the cord had gone bad (the hard drive was only 13 months old). Bought the cable, plugged it in and no change so, I contact Seagate, they remote connect only to give me the dreaded news that my hard drive was indeed DEAD! But, huh? Ummm I have 5 weddings on there!! These memories are priceless and can not be replaced!
I wasn't even worried about being sued! To me, that was the least of my worries. I was more sick with the thought of possibly losing one of the most important days of someone's life. I wanted to throw up, I cried, I prayed and then I did what I had to do.
I contacted Seagate to get info on how I could try to recover these files. THEN, I called my clients to let them know what happened. I was honest with them. There is no reason to hide the fact of what happened. I just had to assure them that I was doing everything in my power to get these files back. I shipped my hard drive off and waited for them to receive it. The whole time they are telling me that by me sending in, does not guarantee the files are retrievable.
After 6 weeks of them contacting me, having me look at things, filling out forms, checking tear sheets, and even after I mailed them a new hard drive in case they can retrieve after seeing images on the tear sheet, they still tell me not to get my hopes up but to go ahead and send them $1200 to do the recovery just in case it works. $1200 and 2 months later, I receive the new hard drive I sent them with whatever they could retrieve.
Let me tell you, those moments when I'm opening this box and plugging this into the computer were the most nerve racking minutes of my life. Hoping and praying that I was able to get these files. Not for me but, for my brides. I wanted to call them and give them good news. Afterall, I couldn't have asked for more understanding brides through all of this. Yes, this meant their images were late but, if I got them, that means they have their images.
Moments went on while I waited for this hard drive to spin up, click on the folder when it pops up and then access the first folder….thank god! All the images looked like they were there… I then open the file for the next wedding…YES! There again. This continued with all 5 weddings. So, that $1200 was WELL worth it!! The stress and heartache and panic finally somewhat relieved. I got right to work editing their files and got them to the couples and they loved them. PHEW!!
Ok so, yay! I was able to recover them right? But, at what cost? If I had just backed up to another source or two, I could have avoided all of this stress and heartache and what I feel was poor customer service on my part by being naive and thinking that one hard drive was enough.
Now, I back up to multiple sources. I back up to 3 hard drives along with keeping copies on my computer until I am done editing. One of those hard drives stays in a different location so that if something were to happen to either location, there is backup off site and NOW I also use solid state drives which are much more sturdy than your regular hard drives. If you drop them, you don't have to work about the arm falling off inside, etc. These things are pretty hard to kill.
If you have high speed internet, the cloud is a great option to back up to as well. Unfortunately, I live out in the country where high speed isn't accessible.
I learned a hard lesson back then and maybe by me opening up and sharing my story, I can prevent others from losing their memories as well. (If you're still reading at this point. haha) If you are hiring someone, it never hurts to ask them how they will keep from losing your info and files for you as well.
If you have other tips on how to protect files, please feel free to share your comments below.
Lake City, Fl Wedding, Newborn, Senior Photographer Captured Memories by Esta