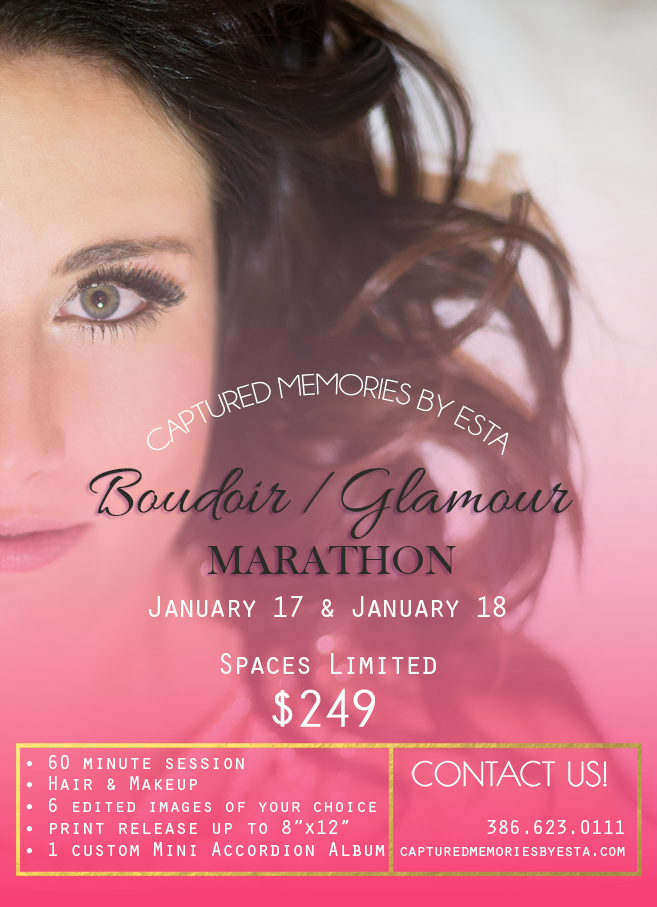 Valentine's Day is only a month away!! Have you figured out what to give your significant other? Or just simply want a day of pampering and fun with some glamorous images of yourself? Who says you can't? Well, this is the perfect time to take advantage of this deal! Half the price of a full session making it sooo affordable! 
Our goal for these sessions are to show you just how beautiful you are and to capture this special moment in time for you. You can choose between classy boudoir or glamour images or a mixture of both. 
The sessions will be held in a beautiful suite in Lake City, Fl. When you first arrive, you'll talk to our hair and makeup artists about the kind of look you'd like (as little or as much makeup as you like!) and then they'll get to work. Once they've glamified you, we'll begin shooting your fabulous images! After the shoot is over, make a night of it now that you're all dolled up…. go out on a date with that special someone or have a night on the town with your girlfriends and listen to them all compliment you! Or even better… have you and your girls book time slots back to back and get ready together and boost each other up through your sessions. 
Each session will include Full Hair & Makeup (by Jessica Johnson of Roots Hair Studio), Wardrobe Consultaion if you like, 1 Mini Accordion Album (You can see an example here) and 6 images of your choice from the session with print rights up to 8″x12″. If you'd like to purchase any additional images at your image selection appointment, they are $15 per additional image to cover the extra editing time. 
These slots are limited and first come first serve requiring a $75 reservation fee to book your time (which goes towards your session cost). Contact Esta at esta@capturedmemoriesbyesta.com or call (386) 623-0111
Not in a rush to get your images by Valentines but, think you and your girls would love to schedule another day. We'll be happy to offer the same offer in the future. Can be between 5-7 women in your party. 
*I respect women's privacy. Therefore Boudoir images are not shared publicly. Your images are your own and you can dictate what I can and can not use if you would like to allow any images used for my marketing purposes. These are for your eyes only unless you say otherwise.