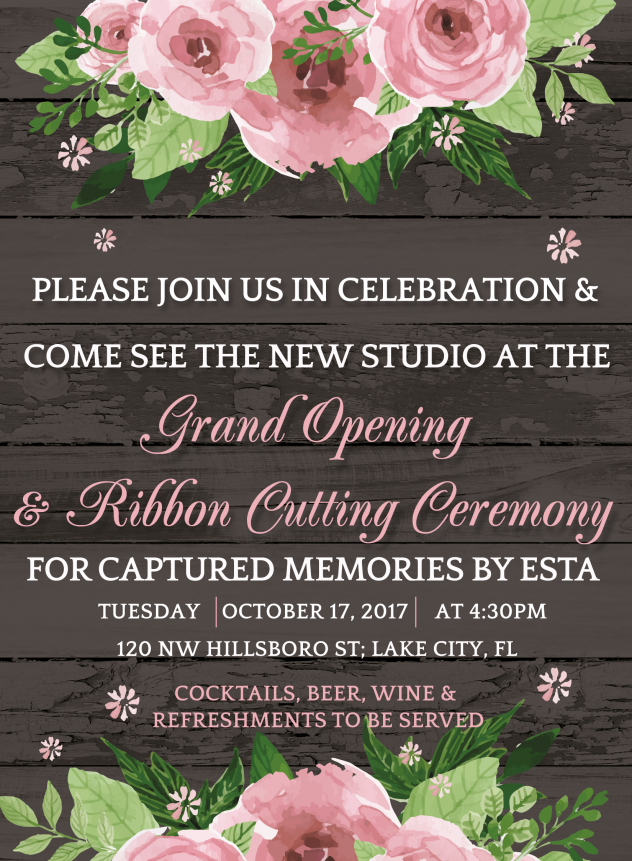 ***8/14/17 Update*** Hello all, unfortunately, due to an issue we came across yesterday (old buildings mean unexpected surprises) while finishing up the studio, we have been put behind just enough to not be able to finish in time for tomorrow's original ribbon cutting date so, we are sadly, having to reschedule our ribbon cutting to the next available date the Chamber had open which is October 17th. We realize this is a long time away but, by then, any kinks will for sure be worked out and on the plus side, it will hopefully be a little cooler! haha If you don't want to wait that long to get to see the new place, feel free to call anytime and I'll be happy to give you a tour (and of course all clients will be in here for their image viewings, etc. throughout that time). We hope you will still join us on the new date to see what we've been up to, come enjoy a cocktail or other beverage and celebrate with us and have a good time. Thank you for your understanding. 
I know I posted a little post on Social Media announcing the new Studio but, I realized I never posted anything on the blog! What better time to post than with an invite for you all!!
We have been working our tails off going back and forth renovating in between my shoots, meetings and editing (those of you who follow me on Snapchat – user name  estaebe  –  have been seeing some behind the scenes updates). Thank goodness for a hubby who is good at everything! <3
I was pretty limited with the old studio and it started getting a little cramped as the business grew (Thanks to all of you!). Some of you knew that I have been searching for the perfect place for goodness, about a year now? Almost bought a place, things happened and now, here we are in a place downtown that I love and almost done with the renovations and I can not be more excited to show you all what I've been up to!! 
Of course, once everything is completed, I'll get my handy dandy camera out and take pictures of the setup but, I would absolutely love to see your smiling faces at the Grand Opening and Ribbon Cutting Ceremony on August 15, 2017 hosted by the Lake City Chamber of Commerce. The Ribbon Cutting will be right around 4:30 but, if you can't make it til 5 or later, come on over! We'll probably be there for a while as it's a time to celebrate!! There will be beer, wine and maybe a special cocktail, refreshments and even a door prize or two! 😉 Go ahead and mark it on your calendar if you're free. Look forward to seeing you soon! <3
The Studio is located downtown at 120 NW Hillsboro Street; Lake City, Fl